I had the absolute pleasure of being the makeup artist for Kara's wedding back in March of this year. Kara was the sweetest young lady, and we hit it off from the moment we met. When Kara told me she was getting married in an old dance studio, and walking to the reception with her guests I knew this wedding would be unconventional and unique. These photographs from Lucy Leonardi really capture the rustic charm of this wedding, the beauty of this couple and the love they share.
Congratulations Kara and Brett!
Below, Kara talks about the vision for her wedding, and writes about various Sydney wedding suppliers she used, and her experiences with them.
The vision

When we begun planning our wedding, I started to wish I'd been one of those girls who had been planning my dream day since age five. I had no idea what I wanted! But it all unfolded perfectly with a feel that was just right for us. I would describe it as a modern-vintage garden soiree with a few DIY rustic touches.
Make-up

Choosing the right make-up artist was one of the most important decisions for me. Beautiful make-up can make you feel confident and amazing, but the opposite is true when you feel it's not right. I wear a full face of make-up almost every day, but I remember forgetting to put mascara on one day when I was going to an event – instead of enjoying myself I felt really self-conscious (and it was only a bit of mascara missing!) I definitely didn't want to feel like that on my wedding day! I also wanted to look like me – just a little more glamorous!
I am so grateful to the friend who recommended Rebekah. In great frustration I had been telling her of the first trial I had which was a less than positive experience. Meeting Rebekah put all my worries at ease. She asked questions about our wedding, about me, listened to everything and talked through some ideas so she could work my make-up to suit me. We tried a few small variations of lip colour and intensity of eye make-up so it was just right. She was patient and made me feel extremely comfortable and confident in her ability. And above all – I loved my make-up.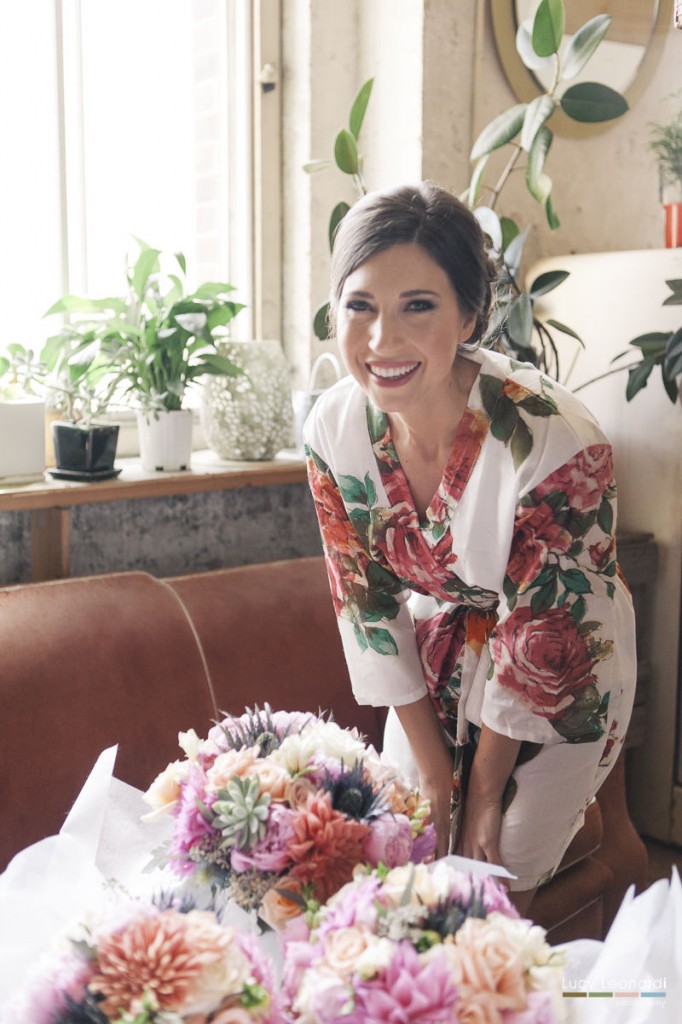 On our wedding day she was exactly the kind of person you need in a room – calm, relaxed, warm-spirited. She turned up on time and absolutely professional – she's also a perfectionist! My Mum and two bridesmaids all whispered separately to me on the day "wow, she's really good!"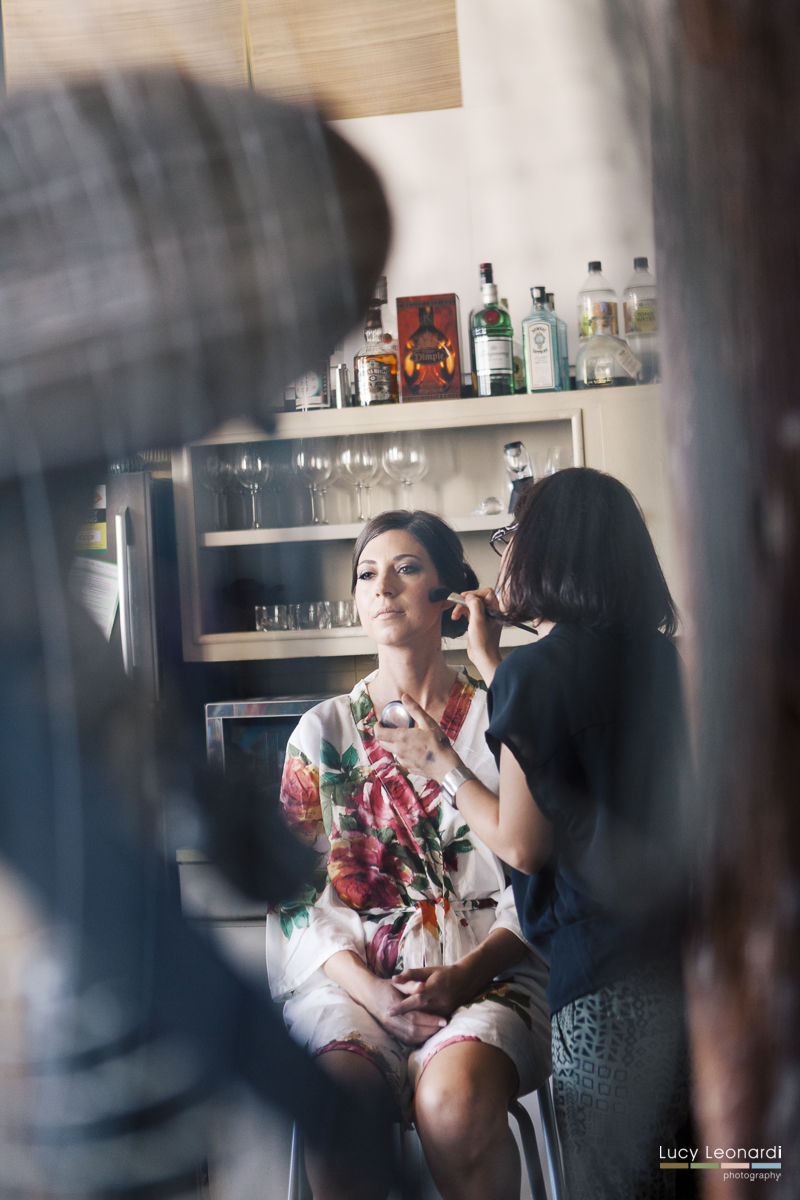 During my trial I had explained to Rebekah that we would be walking over a kilometre from our ceremony to our reception venue and I was worried about my make-up sweating and coming off. I had nothing to worry about – it lasted to the end of the night and it still looked great.
I cannot recommend Rebekah enough – she is so talented, such a professional and a truly lovely person to be around!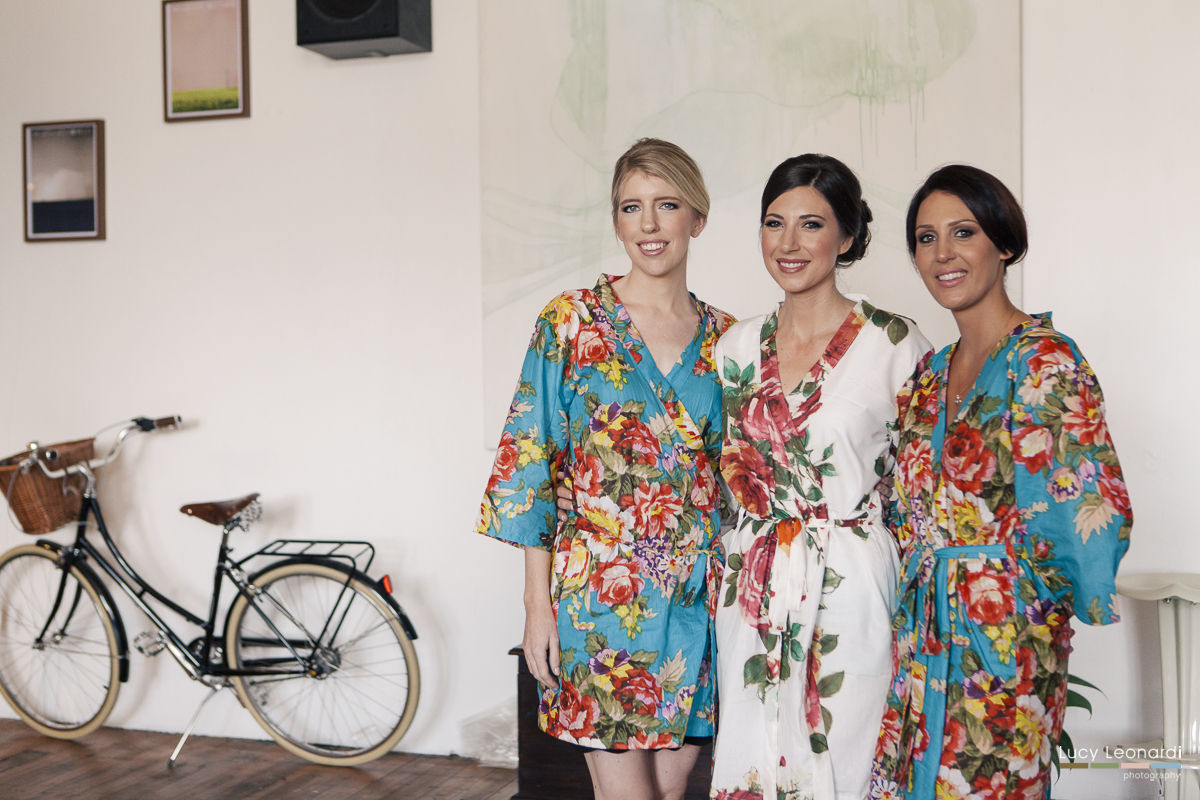 Wedding dress

For my wedding dress I wanted something romantic, feminine, a little bit vintage and a little bit elegant. After trying on a few dresses I also realised I didn't feel comfortable in anything that sparkled too much, or was too full in the skirt – it just wasn't me! I went for a lace, slimline gown with a chapel trail and a waist belt by Sottero & Midgley, purchased from Abbey Bridal. Not only did it suit my personality and style, it also suited the garden wedding venue. Abby Bridal an extensive collection with something for everyone at prices that won't blow the budget – I'd recommend stopping in for a look around (although you need an appointment to try on the gowns).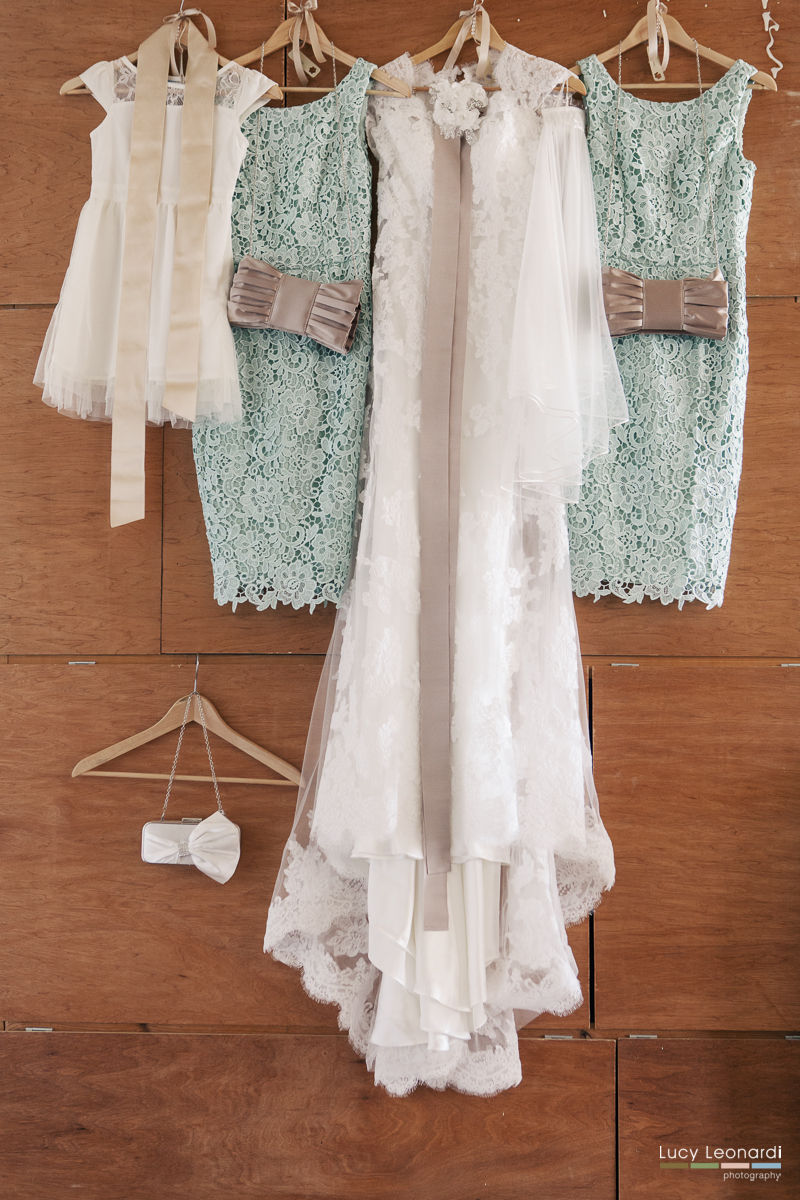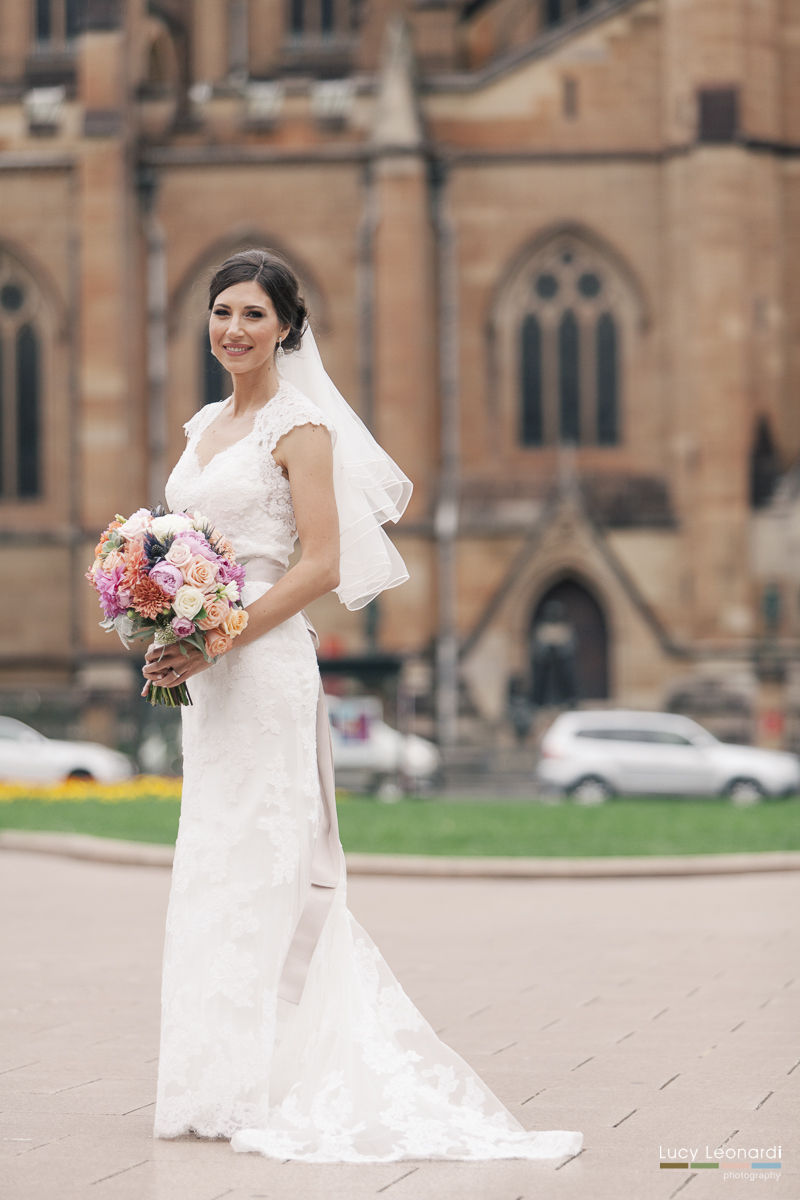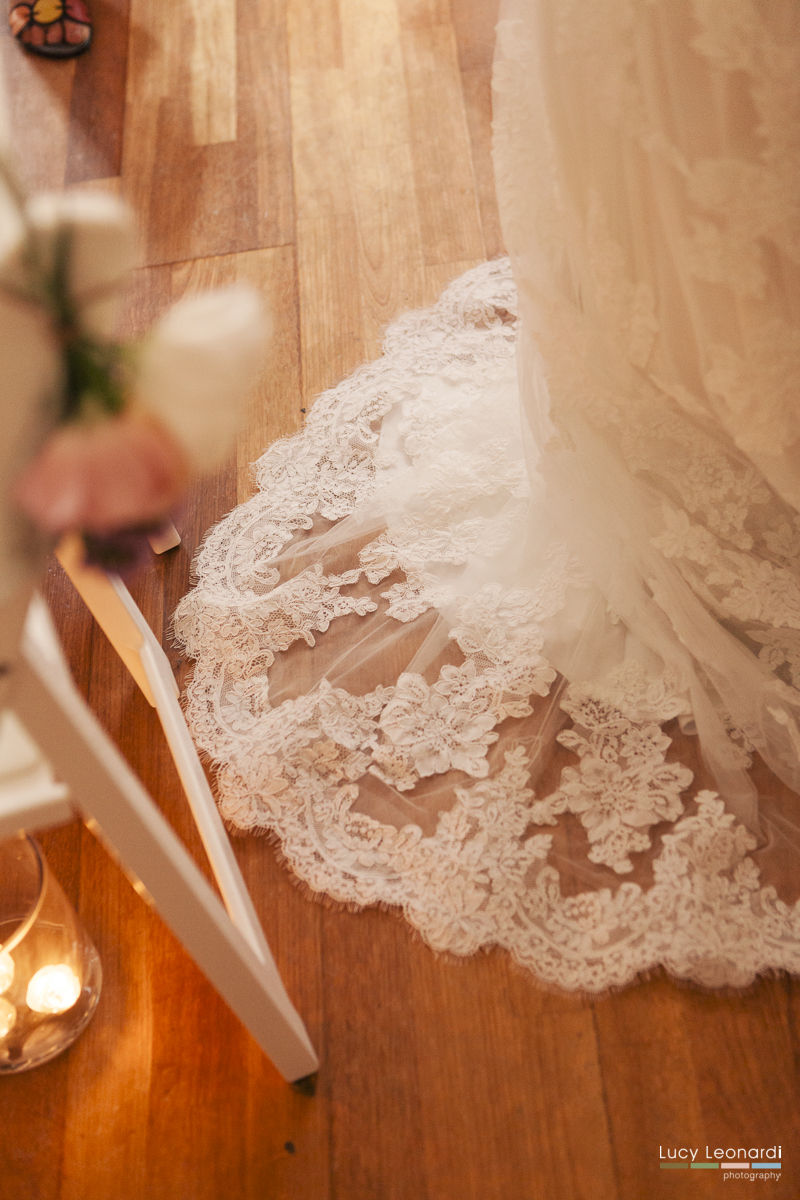 Location, location

Choosing a venue was one of our biggest challenges. I knew I wanted an outdoors element, and Brett's only request (next to great music) was the option to select our own caterers. We really wanted the flexibility to choose food, beer and wine we liked. We also wanted somewhere fairly central and easy to get to, as a lot of our guests were flying in from interstate and overseas. The combination proved harder to find than we expected! But we came across Lion Gate Lodge in the Royal Botanic Gardens and immediately loved it. It was a blank canvas so we could do whatever we wanted style-wise, and it was surrounded by not only beautiful gardens, but also the city skyline.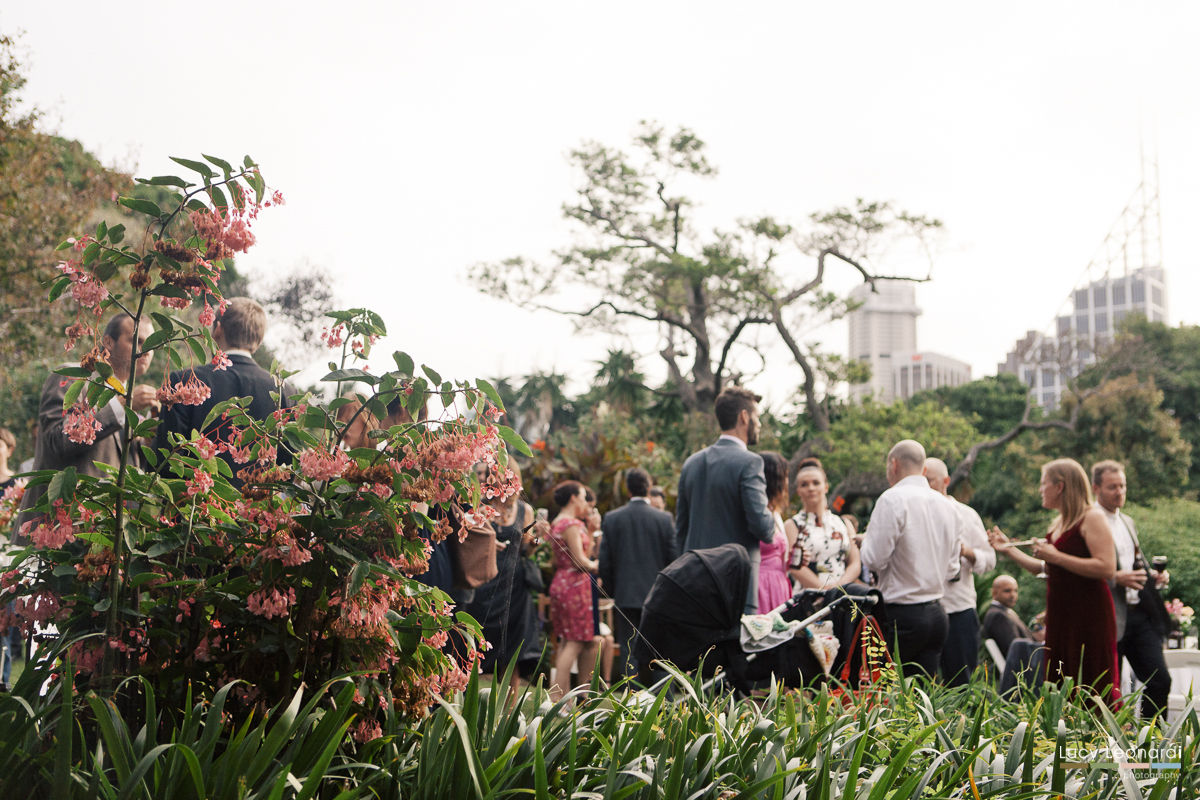 Our ceremony venue was a little unconventional – a ballroom dance studio in the St James Trust building, which we initially looked at it as an alternative to Lion Gate Lodge because I was worried about the possibility of rain. The minute we walked into the space though we were really taken by the enormous arching windows, high ceilings, lovely natural light and overall ambience, and decided we would get married there.
Our two venues were on opposite sides of Hyde Park and this worked perfectly for us. We led our guests from St James Trust Building through the park and into the Gardens on one of Sydney's most beautiful walks, with a musical procession featuring many of our musician friends. We had our 'formal' photos along the way!
Catering

We wanted a cocktail style wedding to give people the freedom to move around and mingle with others rather than spend half the night in one spot at a table, but we were very conscious of making sure everyone's bellies were full with hearty wholesome food. We were extremely lucky to work with friends of ours from the Full Circle community. Full Circle takes a really special approach to food, and believes its something that should be shared and celebrated. They source and cook with fresh in season produce from local farmers and put a great deal of passion into work. Many of their days are spent organising festive food events, secret dinners and pop-up food experiences. We explained the concept of our wedding and type of food and experience we were after, and they agreed it was a good fit. We were absolutely blown away with what they came up with, the menu was divine and received compliments from every corner. I was really grateful for Brett's insistence and persistence in being able to self cater so we could work with these guys – they really are amazing!


What else I loved

Next to my make-up, I absolutely loved my bouquets – Sevi from Lulu flora couldn't have made them more perfect. To top it off they were hand delivered by her husband!
I also loved every moment with Brett, but his speech was particularly special – I don't think there was a dry eye in the room (and my make-up managed to withstand it!).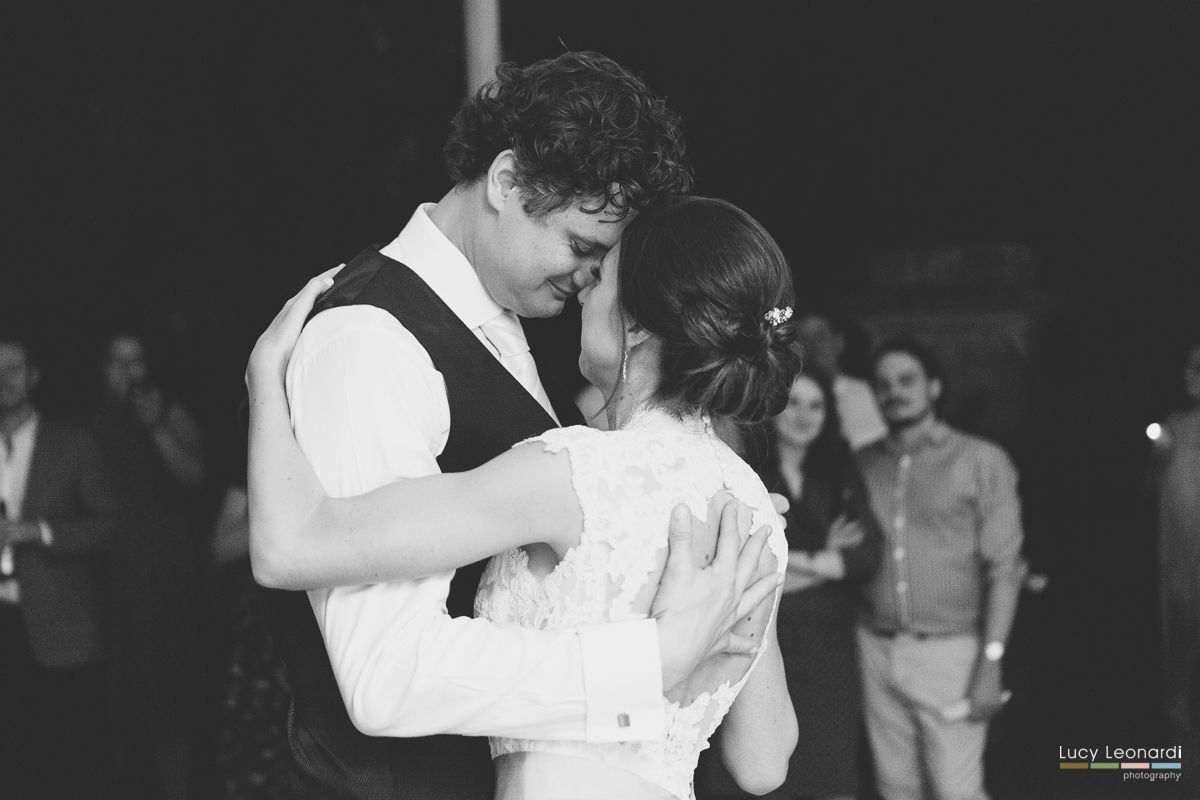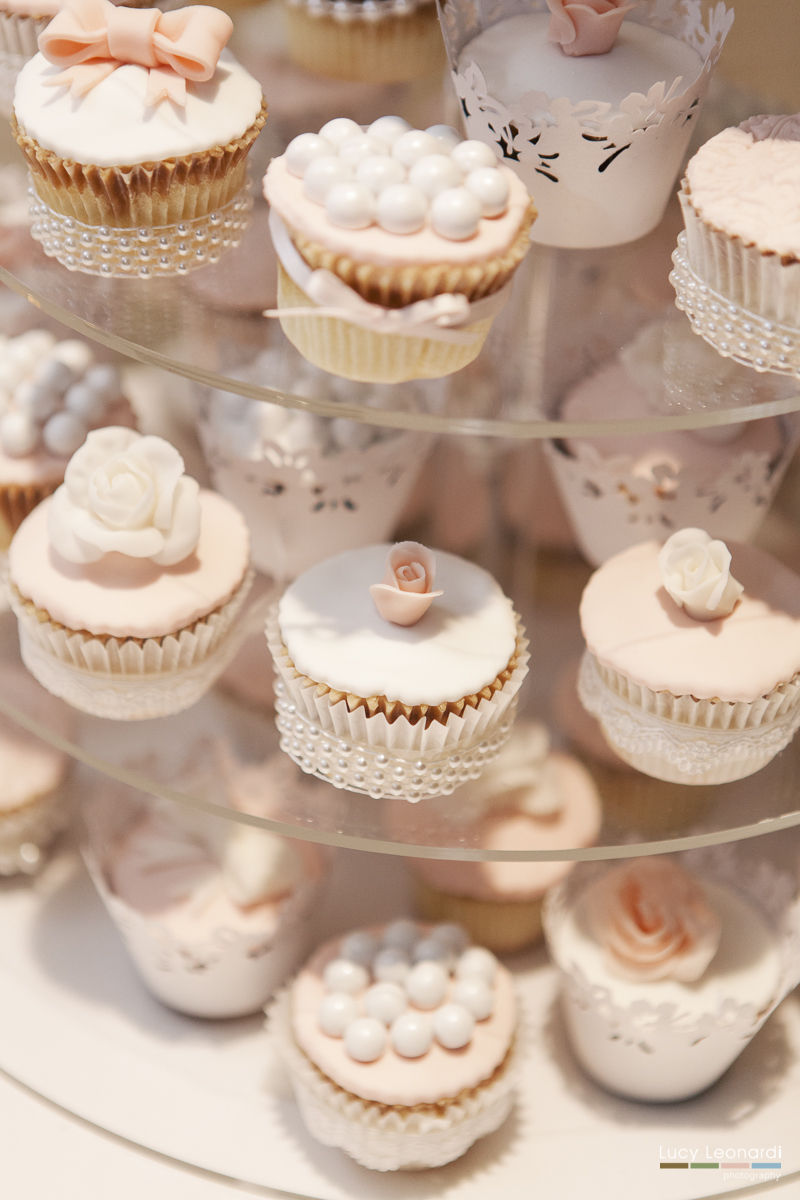 We had the most wonderful, magical wedding day. I would be lying if I said planning a wedding is not crazy and stressful, but it sure is worth it! We had so much fun; and rare and special is the occasion that you get all of your most treasured friends and family in the same place at the same time; that was the greatest gift.
Suppliers:

Make-up: Makeup Artistry by Rebekah Foxe makeupbyrebekah.com.au
Hair: Sophia
Dress: Abbey Bridal (Sottero & Midgley) abbeybridal.com.au
Bridesmaid dresses: Review review-australia.com
Photography: Lucy Leonardi lucyleonardi.com
Bouquets & Boutonnieres: Lulu Flora luluflora.com.au
Ceremony venue: Step-up, St James Trust Building, Sydney http://www.stepupstudio.com.au
Reception venue: Lion Gate Lodge, Royal Botanic Gardens http://www.rbgsyd.nsw.gov.au
Catering: Full Circle fullcirclecommunity.com.au/
Wedding Cake: Miss Delish (my talented sister!)
Bomboniere – Cookie Queen Kitschn facebook.com/CookieQueenKitschn