Every makeup and/or beauty junkie I know has been raving about the Clarisonic skin care brush for a very long time.  With the $250+ price tag, I wasn't in a huge rush to get it.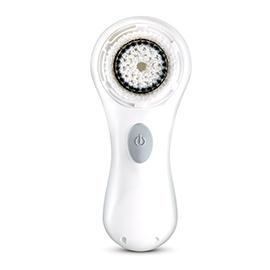 So while I was in Hawaii last month on a family vacation (and makeup/skincare purchasing expedition!!!!) I saw the Clarisonic Mia for US$99 in Sephora.  In the basket it went, without hesitation.  The Mia is the one-speed version of the original (as opposed to three-speed), but that suited me fine.  I just had to see what all the fuss was about!  (The price of the Mia in Australia is AU$150+)
Straight from the website, the Clarisonic sonic method is explained:
Unlike spinning devices, our patented sonic technology works with skin's natural elasticity, oscillating at a sonic frequency that produces over 300 movements per second. The resulting flexing action created between the outer and inner brushes work to loosen dirt and oil, removing deep-seated impurities from pores and priming skin to better absorb topical treatments.
I am not exaggerating when I say that I noticed results INSTANTLY!  My skin has always been quite dull, with regular breakouts, dry in some places, large pores, super sensitive, with an oily t-zone.  If I leave the house I have to at least have some BB cream on to even out the skintone a little as I just hate the look of my naked skin.  At times my skin looked and felt like that of a teenager, which was quite depressing for someone in her twenties (ok, ok…. thirties).
I have been using the Clarisonic now for about 4 weeks (together with my new Boscia Skin Care, also purchased from Sephora, which I will also be blogging about at a later date) and my skin has never, ever, ever felt or looked so good.  It has transformed my skin!!  My pores are disappearing, the texture is smooth, my skin feels and looks radiant, and the breakouts have decreased significantly.
Highly recommend this vibrating little gadget to everyone!!!!
You can buy them here: http://www.clarisonic.com.au/shop-our-products/cleansing-devices
Rebekah Foxe
Makeup Artist and Hair Stylist